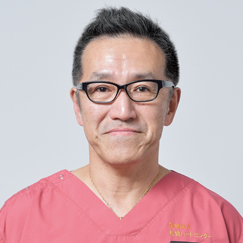 Medical Corporation Sapporo Heart Center
Chief Medical Officer(CMO)

Tsutomu Fujita, M.D.
My life is all about interventional cardiology to serve all the patients who have coronary artery diseases.
To establish the most advanced cardiovascular center in Japan, I founded the Sapporo Cardiovascular Center in 2008.
After three years, we got launched. Our facility was considered as the top five interventional cardiology center of Japan.

We, all staffs, believe that our philosophy of minimally invasive and extremely early diagnosis without angiography was crucial to serve our patients.
Many highly motivated professionals have been joined the center and shared our experience with other professionals in Japan and other countries.
In 2012, the department of cardiovascular surgery was installed to serve all the patients who have any kind of cardiovascular disease.Dr.Hirosato Doi, our director of cardiovascular surgery, had a record in the highest volume cardiovascular operations in Hokkaido.

His team is offering the best surgical services for our patients. I can say our facility is a dream team because our department of cardiology is the best in Hokkaido as well as 4th in Japan, and our department of cardiovascular surgery is the best in Hokkaido. I am proud of our team. We, Sapporo Heart center, Sapporo Cardiovascular Clinic, commit to serve the people of Hokkaido by showing our best practices.